Protect Firewood
No better way to protect your firewood all year long with our durable cordwood covers
Good firewood stacking results in drier, more seasoned wood
Read More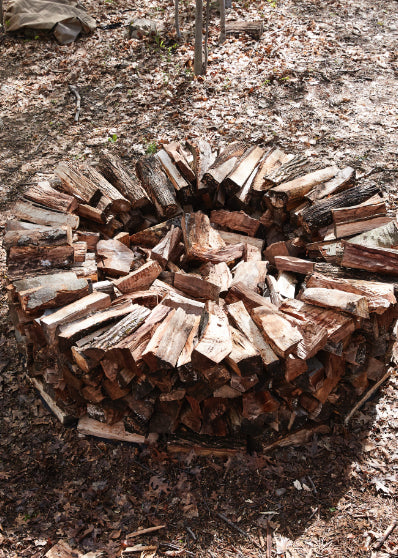 Details
Easily make round wood pile with no rack needed.
Provides all year long protection from the elements.
Hold approx. 2 cords of firewood.
Waterproof
Buy Now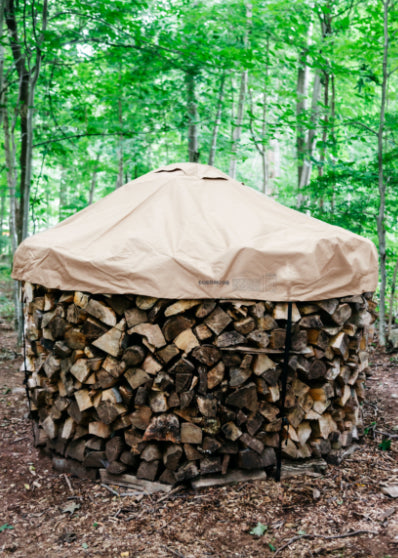 Mesh Base

Circular base establishes the size of the woodpile and contains mating buckles to easily secure the cover straps. Constructed using a durable fine mesh polyester material. Mesh keeps dirt, worms and bugs off of wood while allowing water to easily pass through keeping wood dry. No need to place wood on elevated structure or pallets.

Buckles Secure Fastening

Straps securely attach the cover to the base assuring it stays in position during heavy winds. Cover includes four straps which connect to the base using side release buckles. As you consume your firewood, you simply tighten the straps for the cover as your pile shrinks.
Waterproof Firewood Cover

Waterproof cover keeps rain, snow and leaves out of the woodpile while maintaining airflow through vents at the peak.

Durable

New Second generation Cover made of heavy duty UV protected 360 GSM PVC with integral rip stop reinforcement.

Store More

8 foot in diameter x 4.5 ft high pile holds approximately two cords of firewood.

Maintenance-Free

Cover includes four vents at the peak to allow for proper ventilation and airflow assuring woodpile dries quickly when stacked.
Testimonials
See what our customers are saying!
Just wanted to pass on some feedback, but want to first say that we've loved the ease of stacking wood, the design of the cover, and the aesthetic to our property over the pallets - we have some many folks ask about the covers.
I thought the product worked great and I didn't have any issues. You're instructions were awesome and I love how nice and clean the stack looks.
The stack turned out awesome and looks Uber cool with the cover! Everybody loves the way it looks ESPECIALLY me! 
I love your product and have four of them.
I live in an area where the majority of people heat with wood. I have built some holz hausens to dry my wood and my neighbors always compliment the way they look. I have recently discovered the cordwood cover through Wranglerstars YouTube channel and love the design.
An amazing product that I saw through Wranglerstar. Could not be happier with this
I received my cordwood cover and am very excited to build my first Holz Hausen woodpile!
I purchased two cordwood covers from you about one year ago. I was very impressed with the look, feel, and construction of the covers. Visitors often comment about how nice and neat the wood piles are with those canvas covers.
Building was a lot of fun!….Once our cabin is completed we will order the cover again!
Love them! This will be our second one!  Most likely will get a third... ;-)
I've been using this product for a few years now and its absolutely great. Alot less stress on the day to day life in the Winter time
Great product that changed the way I stacked my wood. It keeps the wood dry, easy enough for my kids to stack and pull wood from. 
Blog Posts
Read articles that expand on how Cordwood Covers can work for you. Whether you want to know how seasoned people stack their chopped wood or why they chose Cordwood Covers as their solution to protecting and organizing their wood, read all about it here!